Floating Solar Power: New Frontier for Green Water Utilities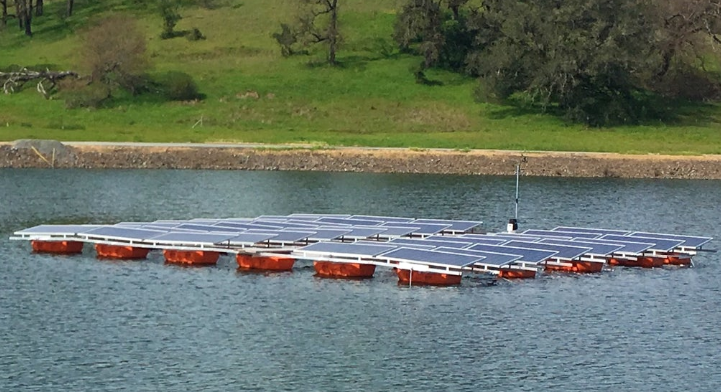 Two California water utilities are building floating solar-power projects at their reservoirs to reap energy savings and other benefits.
Written by Matt Weiser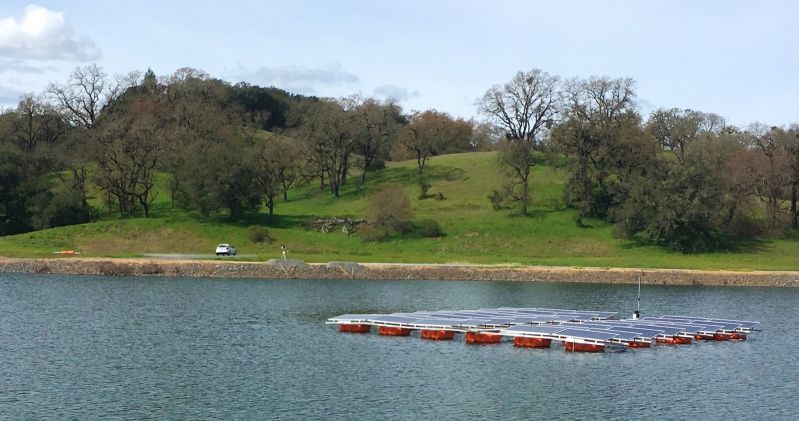 Sonoma County Water Agency's Oceanview water treatment pond was the test bed for this floating solar panel array last year. A final installation is expected to be complete by the end of 2017, with an output of 1 megawatt of solar electricity.Photo Courtesy Sonoma County Water Agency
A few water agencies are embracing floating solar to maximize the utility of their storage ponds and reservoirs. Floating solar panels can provide energy that offsets operating costs and reduces greenhouse gas emissions. And there are other benefits: Floating solar panels throw shade on the water surface, which can reduce evaporation and algae growth.
Sonoma County Water Agency will install floating solar panel arrays later this year. The panels will float on its Oceanview treated wastewater pond in Windsor, where shade from the panels will reduce the cost of algae control, and the electricity produced will help power the treatment process.
The agency had already built solar arrays on rooftops and parking lots, said general manager Grant Davis. The next choice was ranch land, but that posed a conflict with livestock grazing operations.
"We were looking then for disturbed acreage that was going to be out of sight, out of mind," Davis said. "And what better place than a wastewater treatment pond?"
The agency was also motivated by a 2008 policy adopted by its board of directors to become "carbon free" by 2015 – meaning it aimed to eliminate carbon dioxide emissions from its energy demand – a goal that it met.
So about three years ago the agency signed a contract with Pristine Sun, a San Francisco firm, to develop a floating solar panel system for several of its treatment ponds. Pristine had not built a floating solar system before. But after some research and testing, the first system was installed as a pilot project at the Oceanview treatment pond in summer 2016.
The trial was successful, and a permanent installation at the pond is expected to go live by the end of this year. It will produce 1 megawatt of electricity, enough to offset 4 percent of the agency's electrical demand. The panels will be mounted on plastic floats borrowed from the dredge-mining industry.
The team plans five more floating solar projects on other treatment ponds. In total, they'll produce enough electricity to power 3,500 homes.
Read full article: News Deeply