Largest Water ​Purification ​Plant on the ​Planet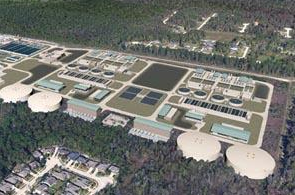 Houston begins building the largest water purification plant on the planet. The three-part expansion will increase water capacity 300 percent in the rapidly expanding northern suburbs.
The Northeast Water Purification Plant expansion project is underway near Lake Houston in Harris County, Texas.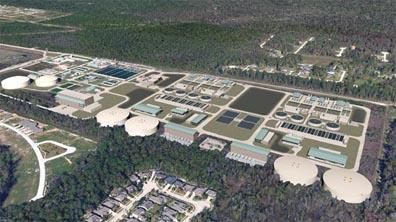 Image source: Construction Online
Groundbreaking ceremonies signaled the start fo the three part project that will increase treated water capacity in the area to 320 million gallons per day.
The project includes the design and construction of a new raw water facility, which includes an advanced three-level intake, pumping, and conveyance to withdraw water from Lake Houston and deliver it through two new 108" pipelines to the treatment facilities located about 1.5 miles from Lake Houston.
The undertaking involves moving water three miles over a ridge and into a 23-mile canal that will feed Lake Houston, then pumped through 17 miles of pipe large enough to drive a car through.
The new facility is being developed by five parnters – the North Harris County Regional Water Authority, the West Harris County Regional Water Authority, the Central Harris County Regional Water Authority, the North Fort Bend Water Authority, and the City of Houston – who together to share the $1.35 billion cost.
The Greater Houston Water Department says that by 2025, surface water -- rather than groundwater -- must supply at least 60 percent of the water used by the area. That percentage will rise to 80 percent by 2035.

The new plant will treat Lake Houston water and turn it into drinking water. Additional demand for surface water will be offset by the Luce Bayou Interbasin Transfer Project which will draw water from the Trinity River and transfer it into Lake Houston.
Read full article: Construction Equipment